Get access to latest and updated syllabus of AFC subjects. Here you will find detailed course content or Syllabus of Functional English for Winter 2021.
Please Note that AFC examinations will be discontinued after winter 2021 attempt.
Now you know what topics to study and practice .The next step would be to download the latest official Functional English Study Text. Click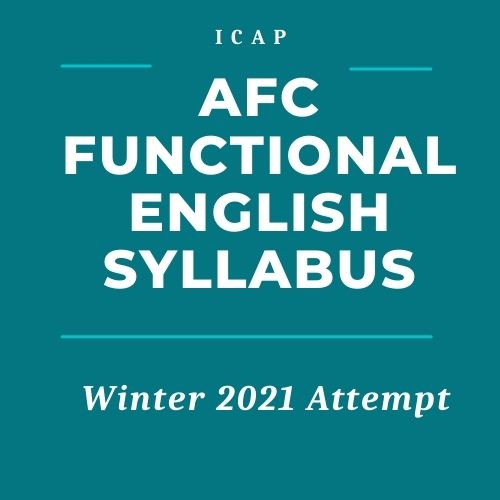 Syllabus GRID
Here is the grid of Syllabus of Functional English for Winter 2021.
| | |
| --- | --- |
| GRID | WEIGHTAGE |
| Vocabulary | 15-20 |
| Practical use of Grammar | 20-25 |
| Comprehension and Speed reading (General) | 10-15 |
| Total | 50 |
Course Outline
The course outline gives an overview of Syllabus of Functional English for Winter 2021. The detailed Syllabus of Functional English for Winter 2021 attempt is given below.
Vocabulary:
Meanings and application of vocabulary listed on:
a: "The Oxford 3000- Seventh Edition",
and
b: Any other list as the Institute may provide at any time before the conduct of Examination.
Practical Use of Grammar:
Parts of speech
Rules of sentences
Phrases and Idioms
Tenses
Direct and Indirect Speech
Active and Passive Voice
Punctuation
Comprehension and Speed Reading (General):
Comprehension
Speed reading
Course Content:
Here is the detailed Syllabus of Functional English for Winter 2021.
An Introduction to English
THE ENGLISH LANGUAGE – AN INTRODUCTION:
The English Language
Which version?
Closing Comment
Introduction to Grammer:
Parts of speech
Sentences-An Introduction
More about sentences
The Verb Phrase:
Introduction to verbs:
What is a verb?
Introduction to tenses
Person
form of verbs
Auxiliary verbs:
Introduction to auxiliary verbs
Primary auxiliary verbs-Be
Primary auxiliary verbs- Have
The verb do
More auxiliary verbs
Tenses:
Simple tenses
Compound tenses introduced
Perfect tenses
Progressive tenses
Perfect progressive tenses
Future tenses
Exceptions
The Noun Phrase:
Nouns:
Nouns
Common Nouns
Countable and uncountable nouns
Other types of nouns
Genders of nouns
Forming Plurals
The Possessive case
Pronouns:
Introduction
Personal pronouns
Possessive pronouns
Reflexive pronouns
Reciprocal pronouns
Demonstrative pronouns
Relative pronouns
Interrogatives
Indefinite pronouns
Other parts of speech:
Determiners:
Introduction
Definite article
Indefinite article
Demonstratives
Possessives
Quantifiers
Numbers
Distributives
Interrogatives
Order of determiners
Complements:
Introduction
Subject Complements
Object Complements
Adjectives:
Introduction to adjectives
Forming adjectives
Comparison
Intensifiers and mitigator
Order
adverbs:
Types of adverbs
Adverbs formation
Possible adverbs for common verbs
Comparison of adverbs
Prepositions:
Introduction to prepositions
Complex prepositions
Verb/Prepositions combination
Conjunctions:
Introduction
Coordinating conjunctions
Subordinating conjunctions
Correlative conjunctions
Vocabulary:
A working vocabulary:
Oxford 3000 wordlist
Word Building
Group of words from wordlist
Prefixes and Suffixes:
Synonyms and antonyms:
Word Confusion -Homonyms:
Homonyms
Further homonyms (list)
British English and American English:
Different spelling
Different words
Phrases and Idioms:
Figures of Speech:
Introduction
Other figures of speech
Simile and metaphor:
Simile and metaphor explained
List of similes
Idioms:
Introduction
List of idioms
Foreign Phrases:
Introduction
Foreign Phrases
Sentences:
Sentences-An introduction
What is a sentence?
Subject/Verb agreement
Double negatives
More on clauses
Punctuation
Classification of sentences
Types of Sentence-by structure
Simple sentences
Compound sentences
Complex sentences
Compound complex sentences
Conditional sentences
Types of Sentence-by function
Mood
Declarative sentences
Interrogative sentences
Imperative sentences
Exclamatory sentences
Optative sentences
Subjunctive sentences
Direct and indirect Speech
Reported Speech
Change in tense when indirect speech is used
Change in model verbs when indirect speech is used
Questions
Requests, commands and advice
Voice
Comprehension and speed reading:
Comprehension
Speed Reading
Speed reading – The concept
Illustration
Recommendations:
The Syllabus of Functional English for Winter 2021 is long and requires hard work. The ICAP's Study text alone may not be enough so follow the below mentioned guidelines too. These recommendations may be a deciding factor in your result.
As well as using the ICAP learning materials there are other things that you can do to help you become
proficient at English.
 Listen to BBC programmes on the radio. BBC broadcasters all speak English very well. Listen in particular to the pronunciation and try to imitate it.
 If you have access watch TV programmes on BBC World.
 Read a good quality English language newspaper or news feeds on the internet.
 Read English language novels.
 Make use of the internet. There are many excellent websites that cover English grammar (a list of these is given next) but, avoid forum based websites where a student asks a question that is answered by someone else on the web. These often contain incorrect information.
Disclaimer:
auditstudent.com's owner or his/her associates will not be responsible for any loss or gain arising from the use of above mentioned content of Syllabus of Functional English for Winter 2021. We will not be responsible for any error(s) caused due to updating of syllabus of Syllabus of Functional English for Winter 2021.