As an added value to our community, TrainingFolks is sharing our most popular download offers from the fourth quarter for FREE:

 
Tips for Effective Conflict Management

The do's and dont's for effective conflict management.
---
vILT Preparation and Delivery Checklist



Make your Virtual Instructor Led Training a success!
Get our vILT Preparation and delivery checklist to ensure you don't miss anything.
---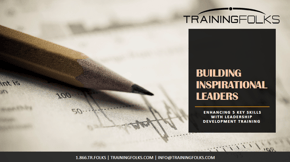 Building Inspirational Leaders

Learn how to enhance 5 key skills with Leadership Development Training