AFC1 Functional English quiz:
Attempt free AFC1 Functional English quiz as many times as you wish without having to pay fee. Quiz questions and their options changes sequence.
Test your knowledge of Functional English Icap paper AFC-01 by clearing these free online quizzes. These quizzes are time based which helps students in solving exams under time pressure. If you think you have prepared for certain topic or chapter test your self here for true evaluation of your expertise in topics covered. The result outcome will have two perspective.
Either you will qualify the mock quiz which will enhance your confidence or you will flunk the exam which will give you a harsh but true picture of your preparation. If you fail the exam and needs updated study text then you can download it from here.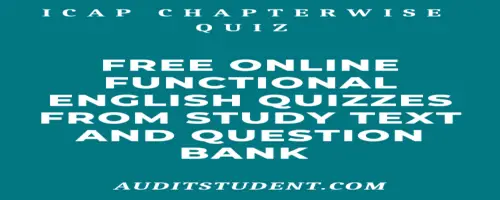 Here is the best thing with online quizzes at auditstudent.com. Not only the Questions sequence changes MCQs sequence changes as well .So Don't just attempt the quiz once. Keep on attempting till you get at least 80% marks here.
ICAP Question Bank MCQS
Remaining Chapters MCQs will be uploaded shortly. INSHA ALLAH