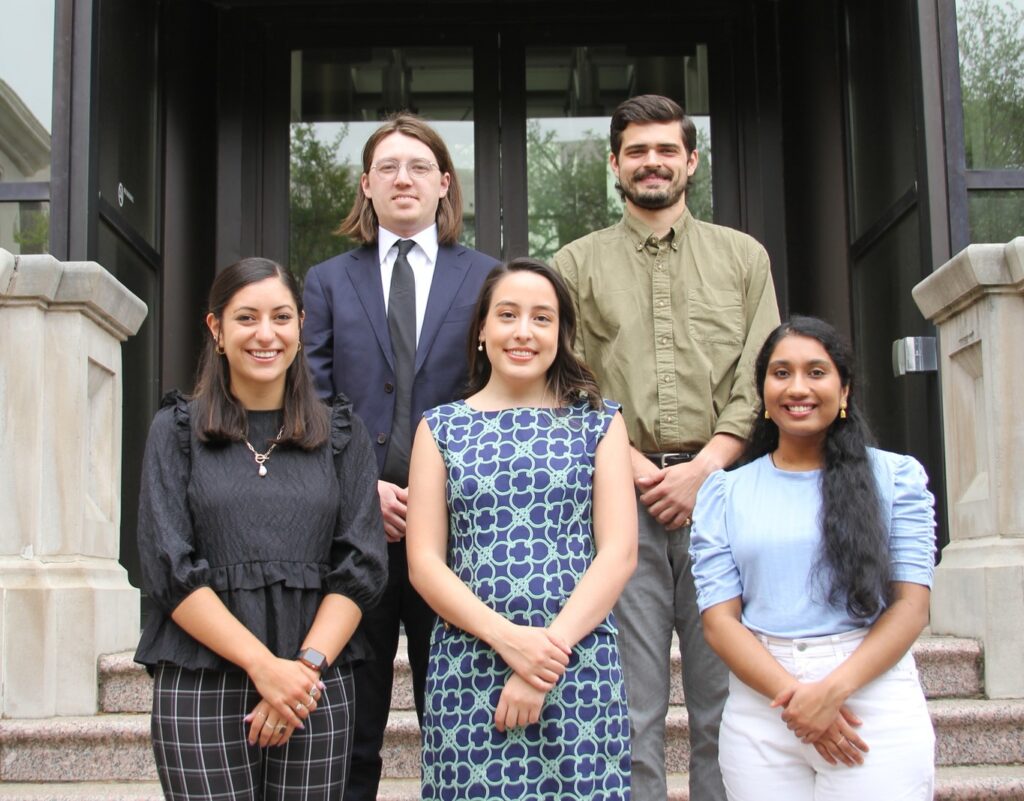 April 18, 2023
Texas Law wants to make it easier for students to take on summer public service positions and to pursue public service careers after law school. The best way to do that, says Dean Bobby Chesney, "is to make sure those invaluable opportunities are in fact affordable opportunities."
The school's commitment to public service legal work is the motivation behind two significant public service funding increases announced recently by the law school, one an increase to the guaranteed stipends provided for students doing public service work in the summer, and the other an increase to the annual salaries for post-graduate public service fellowships, as well as the addition of new fellowship positions.
Summer Fellowships
Ever larger numbers of rising 2L and 3L Texas Law students are drawn to, and finding, summer positions in public service, in either a non-profit, government, or legislative office. The law school is now committed to providing a stipend to every student working in a low-paying or unpaid summer internship in public service to ensure they receive up to $8,000 for a 10-week position. That's a 33% increase over the previous funding level of up to $6,000.
"This increase to our guaranteed stipends will help make it possible for students to accept these positions and gain valuable professional experience," said Eden Harrington, director of the William Wayne Justice Center for Public Interest Law and the school's associate dean for experiential education. "It is wonderful that the school is making this investment in professional development and the Summer Public Service Program."
The Summer Public Service Program, or SPSP, is a new approach to a longstanding Texas Law tradition of supporting students doing public service work. SPSP serves as an umbrella for summer fellowships created through grants and generous donor gifts, as well as monies raised by Texas Law Fellowships, a longstanding student organization dedicated to supporting public service work by students.
Donor-created summer fellowships include the Baron & Budd Public Interest Summer Fellowships; Edward Lee Elmore Summer Fellowship for Public Interest Law; G. Rollie White Trust Public Interest Summer Fellowships; Rapaport Center Summer Human Rights Fellowships; Stuart Henry Environmental Law Summer Fellowship; and the Whitehurst Public Interest Summer Fellowships.
Post-Graduate Fellowships
Among the most sought-after and competitive public service positions for recent graduates are those made possible exclusively by post-graduate fellowships. These fellowships allow outstanding new alumni to work with non-profit legal organizations and public defender offices to increase access to justice for underrepresented individuals and communities.
Texas Law is increasing its post-graduate fellowship commitments in two ways. First, the school is raising the annual amount of the fellowships to $60,000 (up from $55,000). In addition, the school is increasing the total number of such fellowships it offers, with an additional three fellowships becoming available in 2024.
Since the school launched its post-graduate fellowship program in 2005, 68 graduates have received these competitive fellowships, which are administered by the Justice Center. Fellows are selected by a faculty committee based on the potential impact of the proposed work and the demonstrated capacity of the applicant and the sponsoring organization to succeed in meeting the project goals.
"Our postgraduate fellowships have launched innumerable students into successful public interest careers," said Mary Crouter, assistant director of the Justice Center. "It has been rewarding to see the number of students interested in social justice work grow over the years. And while our graduates are very successful securing nationally competitive postgraduate fellowships, like those awarded by Equal Justice Works and Skadden, it is important that the Law School provide additional opportunities for postgraduate funding."
The school's newly funded fellowships will join the pool of those that already exist, which include: G. Rollie White Trust Fellowship in Public Interest Law; Julius Glickman Fellowship in Public Interest Law; Mike A. Myers Fellowship in Public Interest Law; Texas Law Gideon's Promise Fellowship; and 4Girls Foundation Postgraduate Fellowship in Law.
"We're deeply committed to public service, and to ensuring our students and graduates can realize their dreams of doing this vitally important work," added Chesney. "These increases are just the latest demonstration of that commitment."
"Texas Law has long been a leader in supporting public service legal work," observed Harrington. "I am gratified that, as the demand and opportunities have grown, so has the school's support."