Click here to read Edible Fruit Paint for Babies as a Fingerpainting Sensory Experience on Hands On As We Grow®
---
I made some quick edible fruit paint for babies to explore and fingerpaint with.
Fingerpainting for babies is a great sensory experience for them, because they are rarely really painting.
George joined in, but this one was all about Louis. I wanted to use real food in the paint to get Louis to explore new textures and tastes without forcing it at the dinner table.
Easy to Make Edible Fruit Paint
I simply pureed some fruit in the food processor. And that's it.
I used a handful of blueberries, three kiwis and a banana. Not very much is needed. I made way too much even.
I added a couple drops of food coloring to each just to enhance the color that was already there.  But that's totally not necessary.
The kiwi and blueberries are pretty watery when they're pureed. I added a squirt of, our sponsor, Ella's Kitchen pureed baby food just to thicken it up a tad too. You could mix in part of a banana to thicken it up, or try a bit of corn starch.
Quick note: Ella's Kitchen also never adds water to their pouches, just pure fruit and vegetables, so some flavors are a little watery too while others (like the combination flavors) are thicker!

Love Sensory? Get a Free Week of Sensory Activities!

Let Babies Dig Right Into Edible Paint & Explore!
Louis dug right into the edible paint. He even tasted it a few times, which is A-OK because we made it completely edible just for that reason!
(And I didn't get snarls from the taste, yay!)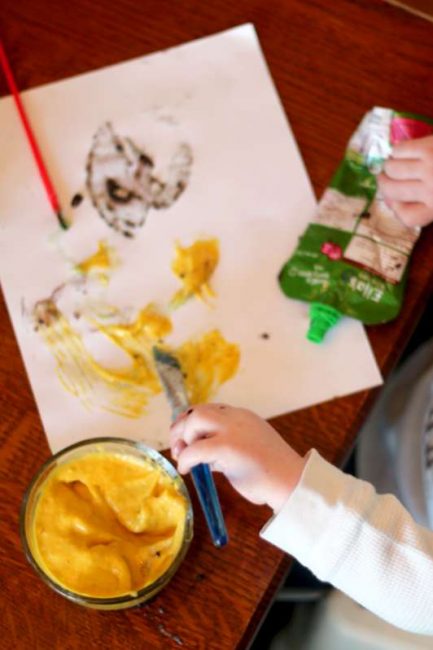 This edible paint doesn't leave the best marks since it's made with juicy fruit. It's not the best choice to use for an actual painting, keep the sensory experience in mind.
But it is great for babies to explore what painting is all about in a safe manner! They can put it in their mouths all they want!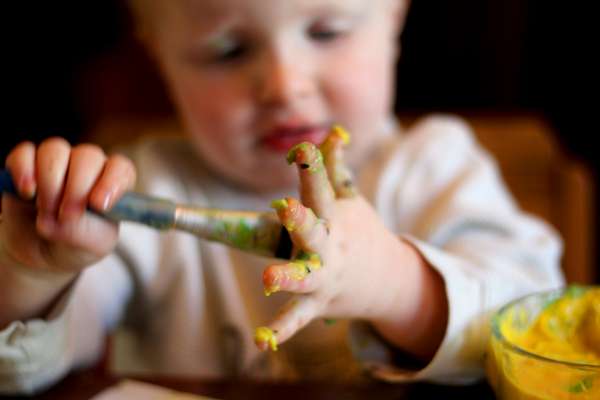 Just a side note:
I actually did go out and buy fruit just to try this edible paint for babies, mostly because I was curious.
However, I don't recommend doing that. Fruit is quite expensive to begin with and I hate to buy a food with an activity as the sole purpose. I would, however, recommend using up any fruit that you have leftover that just is not getting eaten up in time. This is a great way to use it without just throwing it out.
Ella's Kitchen and I had partnered, alongside Modern Parents Messy Kids and The Artful Parent, to introduce you to easy sensory activities for kids to try at home in ways that will also help introduce them to food that's good for them!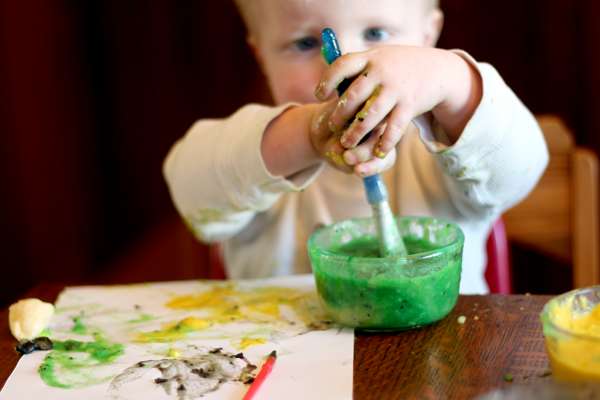 Ella's believes that, just as adults do, babies eat with all of their senses. It's not just the texture or taste that's important. That's why they make sure that all their yummy, organic baby food appeals to all their senses, with bright, colorful, squeezy packs to grab and squish.