Online training and courses are standard today, making it easier than ever to gain knowledge. However, this was not always the case. The leaders of the intensively growing training industry are responsible for creating the ideal conditions for experts to grow.
Verte Training Center is a shining example of this kind of business, with its main focus on training HR, payroll and accounting experts. Over the 13 years of its existence, Verte has delivered more than 6,000 training courses, with more than 100,000 customers participating.
In this case study you will learn, among other things:
How Verte has attracted more than 30,000 leads through its free HR Wednesday webinars,
How they managed to get more than 6,500 registrations for a single event,
Why webinar marketing is ideal for brands looking to build an expert image,
How online training has impacted Verte's growth,
What tools training industry leaders use.
Verte Center: expert knowledge available online
The training industry uses webinar and online meeting tools extremely intensively. According to our State of Online Events report summarizing 2022, online course and training hosts create almost every third event on our platform.
One of the leaders in this industry in the Polish market is Verte Training Center. – Verte organizes training courses for companies and public institutions. We provide training on legal topics, specializing mainly in HR and payroll, but we also provide training on taxes, accounting, public procurement, personal data protection or social benefits," says Katarzyna Bielecka, owner of Verte Training Center. The primary goal, then, is to provide experts with access to proven and up-to-date knowledge. – You can say that when law changes emerge, together with our trainers we try to transfer legal knowledge to the practical sphere," she concludes.
Who are the main recipients of the trainings organized by the company? Katarzyna Rejman-Michalska – head of Verte's training department – answers to these questions: – The audience of our events are primarily employees of public administration units and small, medium, and large companies. They are mainly employees of human resources and accounting departments, but also people who are just starting their careers. In essence, it can be said that our training courses are addressed to all those who are interested in the latest legal changes.
Verte also owes its success to the experts who share their knowledge through online training. – At the moment, we have about 40 trainers working with us, providing training in various departments. They are all practitioners: experts who have very often worked or are working in controlling institutions. We are keen to cooperate with people who are not only theoreticians but can translate legal language into tangible application of regulations in everyday work," says Katarzyna Bielecka.
Online training? Even before the pandemic
The pandemic was the trigger for many companies and educational institutions to create online courses and training. It became clear overnight that a face-to-face meeting was impossible, so alternatives had to be found. Lack of experience and knowledge of the tools in many cases were the cause of disappointment.
However, this was not the case for the leaders: the most effective players were prepared to move to a remote formula, as they had been operating this way even before the pandemic broke out. Sounds familiar? We also heard this from representatives of the AGH University of Science and Technology and Gdansk University of Technology, among others. The Verte Training Center is no different.
– The idea to implement online training came before the pandemic began. In January 2019, we implemented the first online training," says Katarzyna Bielecka. The Lockdown significantly accelerated the pace of change. At that time, online education was not yet widespread and was not trusted by both trainers and listeners. – We wanted to become forerunners of online training, especially for public institutions. However, we assumed that this would be a longer process. At the time, not many companies were providing training in this form, but above all, not many lecturers and clients were enthusiastic about it," adds Katarzyna Bielecka.
Initial experience with online training paid off. Thanks to them, Verte quickly moved the entire training activity to the virtual space. This formula also quickly appealed to lecturers and participants. They saw its undeniable benefits: unlike classroom training, online courses offer unlimited access to knowledge, cost savings, and flexibility. The implementation of a suitable platform also played an important role.
– When the pandemic restrictions were introduced in March, we found that previous training allowed us to make a smooth transition from classroom training to online training. We had to cancel all scheduled onsite events overnight, but we were already familiar with the ClickMeeting platform, its functions, and capabilities. At the end of March, we implemented two online trainings through it, and in April and May, we were already organizing the same number of trainings as we had before. This time, however, fully in the online formula. At that point it simply saved our company," says Katarzyna Bielecka.
Online training at Verte
What does Verte's training activity look like now? As many as 90% of ongoing projects are online. Of course, no one needs to be convinced anymore that online trainings are an excellent way to acquire knowledge. They are also becoming increasingly the first choice of both participants and speakers. – With the opportunities provided by the ClickMeeting platform the numbers we have been able to achieve have surprised even us, the event host. Currently, we are implementing about 50-60 paid trainings per month. This means very often that we organize 4 to 7 trainings parallelly in one day. And this is only part of our activity, as we also create series of free webinars, which help us promote the brand and create a community of experts," says Katarzyna Rejman-Michalska.
The basis of Verte's business is full-scale training courses, which are the equivalent of classroom based training. They last approx. 3-4 hours. The online model has also made it possible to implement shorter training courses, lasting one to two hours, which may be more attractive from the perspective of some recipients and better tailored to particular topics.
– Previously, when we organized on-site events, we did not have the opportunity to prepare short training formats. This was due to costs, the organization of the arrival of lecturers and listeners, or the rules for renting training rooms. Access to online training and the ClickMeeting platform allows us to be more flexible. So we can more quickly discuss a segment of the legislation that does not require a longer meeting. This is very beneficial for our clients," says Katarzyna Bielecka.
Free webinar series: brand promotion and customer base building
Verte's activities are not limited to paid training courses. Experts make excellent use of the potential of webinar marketing, and the most important initiative in this area is a series of free webinars called HR Wednesdays. The events, dedicated to specific issues in the legal, HR and payroll areas, are held every Wednesday at 9:00 a.m. What has Verte been able to achieve so far? The numbers are impressive!
In total, more than 30,000 unique users have participated in the webinars of the HR Wednesdays series,
On average, about 6,000 people register for each webinar.
What does this mean? Remember, every unique user who registers for your event is a valuable lead. Free webinars are, therefore, an excellent lead magnet, and with the registration forms available on ClickMeeting, generating leads becomes even easier. The data obtained can be used in promotional activities: for example, you can offer people interested in a particular topic access to paid training courses dedicated to that specific issue. To make it easier for them to decide, it's worth reaching for the powerful tools available in ClickMeeting, such as CTA buttons that allow users to go to a designated page or automated redirection to a specific address after the event.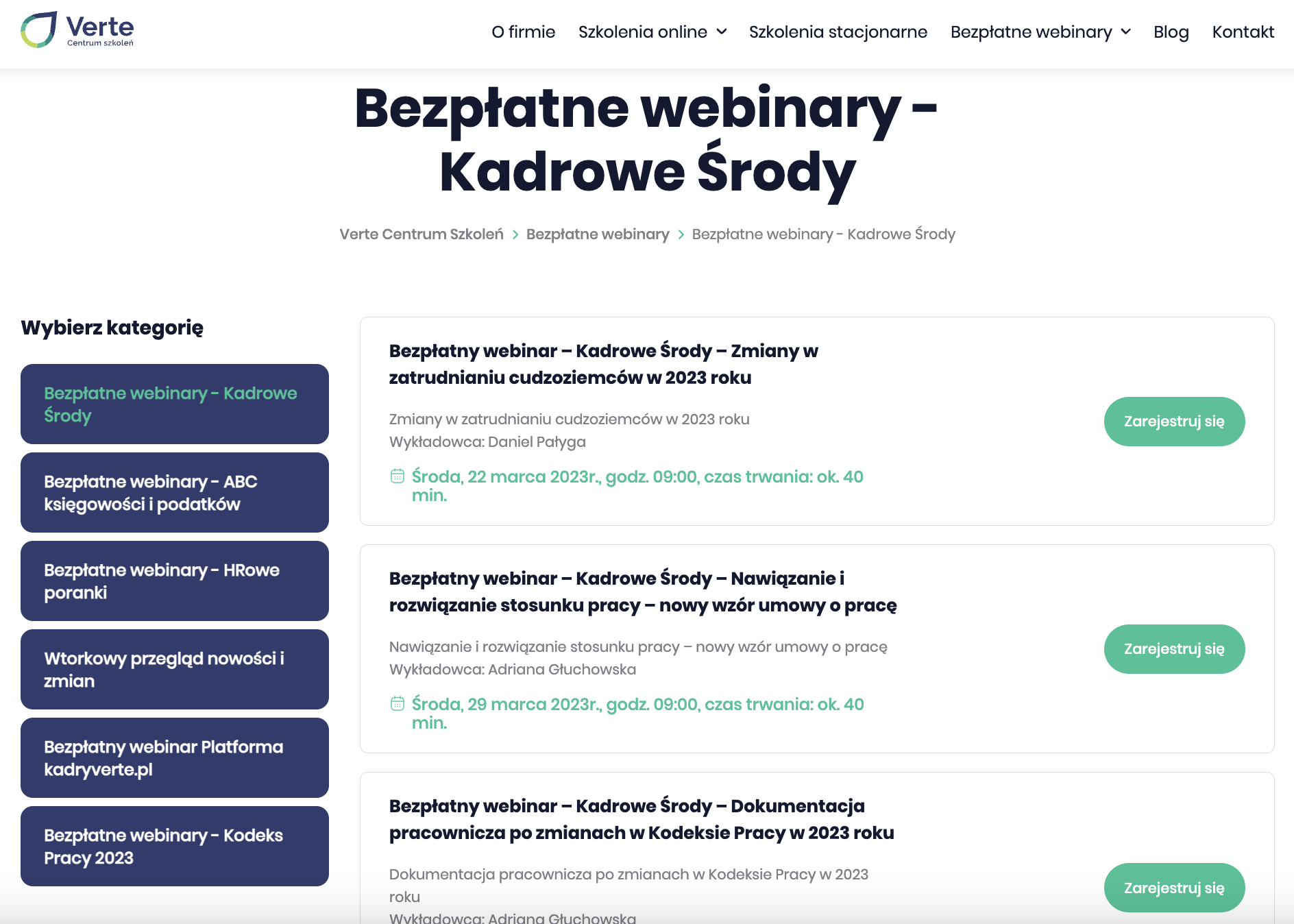 But Verte has achieved far more than that: it has created a unique, large community of people interested in HR and payroll issues. – The events held on ClickMeeting allowed us to promote our brand and popularize it among people interested in HR and payroll issues. In fact, our free webinars have given us unlimited access to a base of experts who are then eager to take advantage of our training," says Katarzyna Bielecka.
Consistent action pays off. Today, Human Resources Wednesdays is a recognizable brand that brings many experts together. – During the last HR Wednesdays webinar, we set a record: more than 6,500 people registered for the event, and more than 4,000 people participated in real-time. It is worth mentioning that at the very beginning we were happy to see 300 people registering for the event," says Katarzyna Rejman-Michalska. – We see that our community is really alive and growing. This can be seen, for example, in the chat during the webinars: many people are greeting each other, talking, sharing their insights, or trying to help others, she adds.
However, HR Wednesdays are not everything. Simultaneously, the Verte Center is also betting on other series of free webinars that address experts in other fields. For example, ABC of Accounting and Taxes addresses tax and accounting issues, and HR Mornings focuses primarily on shaping the soft skills of HR professionals.
The organization of free webinars, also in a cyclical form, gives excellent results and can become the basis of the marketing strategy of a brand wishing to shape an expert image: – At the moment, free webinar series are the main promotional tool and the main tool we use to create a community of HR and tax professionals, – adds the owner of the Verte Center.
Reputation and high visibility allow us to reach not only new clients but also trainers interested in working with Verte: – New trainers often come to us on their own. Many of them have participated in our events, have belonged to our community before, and at some point conclude that they would also like to share their knowledge, this time as trainers," points out Katarzyna Rejman-Michalska.
HR and payroll conference in hybrid formula
The Verte Center doesn't stop at standard webinars and training. On June 20, 2022, it also carried out the 1st National HR and Payroll Conference, which addressed key legal changes in 2022 and their impact on the functioning of HR and payroll departments. The event was held in a hybrid format: both in-person and online. In the latter case, of course, participants accessed through the ClickMeeting platform. They were able to take part not only in lectures but also consult with experts. In addition, they received conference materials and certificates of participation online. – For two days we discussed the most important issues concerning labor law, HR and payroll, and thanks to ClickMeeting people from all over the country could feel as if they were sitting with us in one room," adds Katarzyna Bielecka.
Tools to support collaboration and events
Why are online training so effective? Because they are based on a set of proven tools that support online collaboration. Thanks to the virtual whiteboard, presentation mode, or screen sharing, transferring knowledge can be even easier than during standard face-to-face meetings. Verte representatives are also very keen to use Q&A sessions that allow for structured questions and answers at the time indicated by the presenter. – With this feature, interaction between participants and presenters is possible even during very large events, while managing to avoid chaos and present questions in a clear way, says Katarzyna Bielecka.
However, the potential of ClickMeeting is not limited to the event room. Equally important are the automation features that make it easier to plan a webinar, promote it and reach out to the audience.
– First and foremost, we find the follow-up function helpful, allowing us to inform those in our database about upcoming events. We also send registrants automated reminders about an upcoming webinar, which helps increase attendance," says Katarzyna Rejman-Michalska. – Reaching a wide audience is definitely easier with the ability to simultaneously broadcast events on YouTube or Facebook. This is very important for us, as we often conduct events through these channels and communicate with our customers there. One of the key features is also the registration form, which makes it very easy to acquire leads," he adds.
Goals achieved together with ClickMeeting
Verte is demonstrating the enormous potential of online knowledge sharing and expert-based business. Of course, running it requires the right tools. Katarzyna Bielecka has no doubt that ClickMeeting is one of them: – ClickMeeting has been with us from the very beginning. The first online training we implemented was on this platform, and all this time we didn't even think about the possibility of changing. This is very important, because we implement large and demanding projects, and each is accompanied by very high requirements. ClickMeeting is reliable, and we can confidently recommend it," says the Verte owner.
Achievements are not only numbers, which are undoubtedly impressive. It's also the potential to open up completely new business opportunities and operate on a wider scale. This is exactly what happened in the case of Verte: – When we started the HR Wednesdays series, we wanted to reach as many HR professionals in public institutions and companies as possible, and we did. Brands such as Zalando, L'Oréal, Pyszne.pl, Nestle, Bielenda, Health Labs, Bonduelle, and Polsat Television have participated in our training sessions online. We have achieved increases in sales, visibility, brand recognition, and we continue to increase the number of potential customers, as we keep gaining new leads. We don't stop at these numbers. We are committed to growing our reach. We set more goals for ourselves, and creating an expert community of HR professionals is one of the most important ones," states Katarzyna Bielecka.
However, that's not all. Clients and customers appreciate brands that have a sense of mission and believe that the actions they take carry a certain value. Webinars are a tool that is ideal for this: – While in the beginning Human Resources Wednesdays was a project to help us sell, it is now one of the key areas of our business that we simply enjoy, to which we give our heart and a lot of work. Building a community of experts has become a mission for us, and certainly the ClickMeeting platform has helped us tremendously with that," says the Verte owner.
Easy accessibility is important for customers
A large number of features to support collaboration and event organization, as well as reliability, are not enough. To create events that will be appreciated by your audience, the platform simply has to be user-friendly and intuitive for them. At ClickMeeting, we make sure that every user, including those who don't have much technical knowledge or advanced equipment, can join and actively participate in an event in no time.
– A huge advantage of ClickMeeting is that everything works smoothly and there are no technical problems. Importantly, especially from the perspective of clients working in public administration, you don't need to install additional software because all you need to use ClickMeeting, both as a presenter and attendee, is a browser, says Katarzyna Rejman-Michalska.
Users can easily register for a webinar, and then receive a link that takes them directly to the event room. No additional action is required to participate.
Also, pay attention to features that make ClickMeeting events more accessible, such as automated live transcription. It will make it easier to get information for the hearing impaired, for example.
Take advantage of Verte's recommendation and join the experts growing with ClickMeeting
We are proud to support Verte in sharing knowledge online. We are even more pleased that the owner, employees, trainers of the Center, but also training attendees are satisfied with the platform and recommend it to others.
– We recommend using ClickMeeting. I believe that you can achieve great success with a good idea, a good strategy, and the tools available on ClickMeeting. Exactly as we did," concludes Katarzyna Bielecka.
Want to join the ranks of experts who turn their knowledge and experience into a thriving business? Check out ClickMeeting. You have 30 days to do so at no charge.