Do you want to engage your students AND improve their vocabulary and morphological skills with one activity? This post shares details about creating and implementing a word chain activity using morphology with your 4th and 5th graders (including freebies to help you get started!). This morphology activity is not only engaging, but also a great way to develop a deeper understanding of word structure and improve student vocabulary.
What are Morphology Word Chains?
Morphology word chains are a type of morphology activity designed to help students develop a deeper understanding of word formation and structure by guiding them through steps to create a series of words. The activity helps students become more familiar with the structure of words and the ways in which they can be modified to create new meanings.
The word chains start with a base word and involve a series of steps that require students to add, remove, or change affixes (prefixes and suffixes) or the base word itself. This creates a chain of words with each word being related to the one "linked" before and after it in some way.
Creating a Morphology Word Chain Activity
To create your own morphology word chain activity, follow these steps:
Step 1: Choose a base word to begin with. I like to choose a familiar word that can easily be modified with various prefixes and suffixes.
Step 2: Develop the word chain. Create a series of steps for students to follow, which will result in a chain of words. The steps may include:
Adding affixes (prefixes and suffixes)
Removing affixes
Changing affixes
Changing the base word
Multiple steps (remove a prefix and add a suffix)
Step 3: Test the activity. Before using the activity with students, go through the steps yourself to ensure that they are clear and in the correct order.
Optional: Create fill-in-the-blank sentences for each word on the chain. Make sure that the sentences provide enough context for students to understand the meaning of the words and use them correctly.
If you'd like a ready-made set of 20 morphology word chain activities, click here!
Using the Morphology Word Chain Activities in Your Classroom
Here are some tips for implementing these morphology word chain activities in your classroom:
1. Model the activity. Start by modeling a word chain activity for your students, explaining each step as you go along. This will give them a clear understanding of the process and what's expected of them.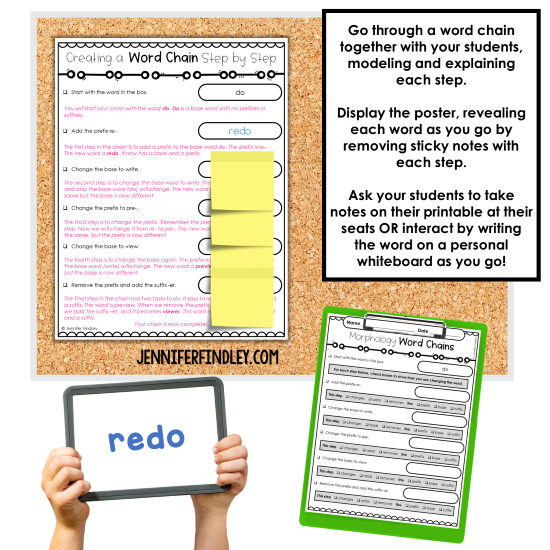 2. Create a discussion around the activity. Discuss the meaning of each word created, the meanings of the prefixes and suffixes, the parts of speech created by the suffixes, spelling changes to the base as suffixes are added, any pronunciation shifts when suffixes are added, other prefixes or suffixes that could be added, other base words that could be substituted, etc.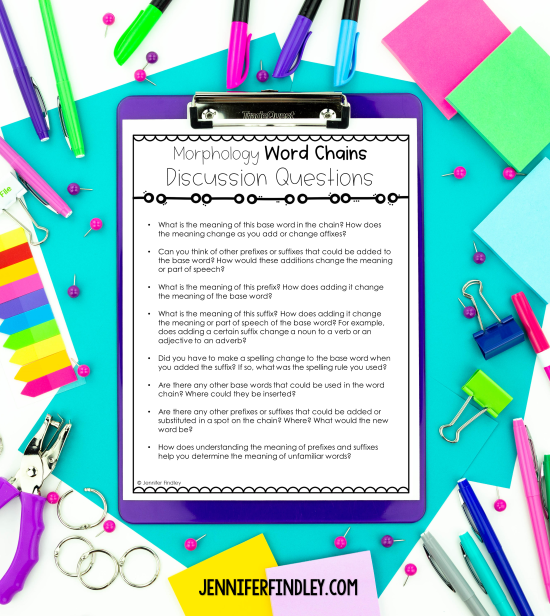 3. Ensure students have pre-requisite skills needed. To be successful with this morphology activity, students need to have these pre-requisite skills:
Identify prefixes and suffixes in multimorphemic words and be able to isolate them from the base
Know the meaning of common prefixes and suffixes
Identify the base word in a multimorphemic word and be able to isolate it from the prefixes and suffixes
Know the suffix spelling conventions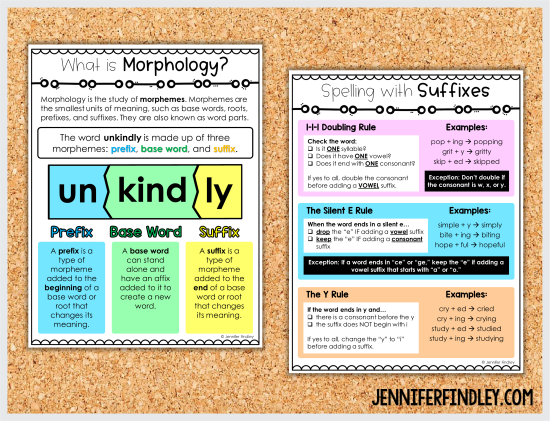 4. Maximize the activity with extension tasks. To further challenge your students and deepen their understanding of morphology or the words on the chain, consider incorporating additional extension activities, such as:
Continue the word chain as a class with input and steps from the students.
Have students create their own word chains
Have students choose words from the chain to write in unique sentences
Encourage students to find related words as they are independently reading (same prefixes or suffixes, for example)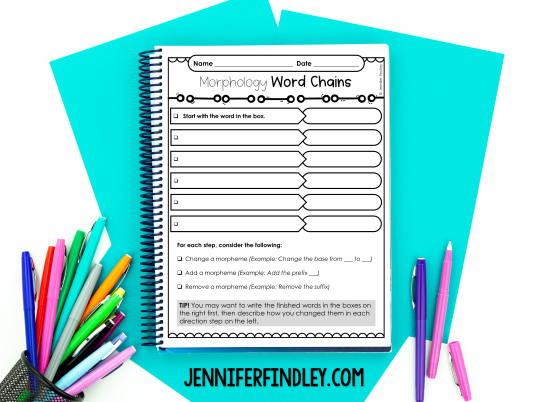 Free Morphology Word Chain Resources
If you want to try this morphology activity out with your students, I have some free resources for you! To have all of the printables featured in the images on this post sent to your inbox, enter your email in the box below.
Want a Ready-to-Go Morphology Word Chain Activities?
This resource includes 20 ready-to-use word chains WITH fill-in-the-blank sentences for students to immediately apply the words from the chain in a grade-level context. And the best part? Digital and printable versions are included so you can choose which format works best for you!