Story elements are taught beginning as early as kindergarten, but it always seems like I need to spend a little time reviewing them with my 4th and 5th graders each year. If you find yourself in the same situation and want a rigorous, engaging, and grade-level way to review basic story elements, I have a free resource to share with you that is perfect for the first weeks of school.
Reasons to Start Instruction with Basic Story Elements
Basic story elements are taught as early as kindergarten, but I still spend the first week reviewing them with 4th and 5th graders. Here's why:
It allows me to pre-assess my students and see where they are with their ability to identify and describe story elements with more complex texts. I use texts that are approaching grade-level but this will vary by student.
Beginning with an "easier" review reading skill, allows me to focus on teaching my students expectations and procedures for our reading time (and expectations for their written responses).
It's a great way to ease students (and myself) into reading instruction and more complex skills.
About the Free Story Elements Resource
Here is what is included in this story elements resource:
Posters
Graphic Organizer
Story Elements Practice with Passages (Two Sets of Practice Passages)
Small Group Activities
Digital Versions
Let's take a look at each resource and how it can be used.
Story Elements Posters
The posters can be displayed while you are reviewing story elements. They can also be used to enhance your anchor charts (or use the content from the posters to help you create your anchor charts). The black and white posters can be printed at a reduced size for interactive notebooks or reading journals.
For each story element, there are two posters: one that defines the story element and one that gives more details about how to describe the story element or examples of the story element.
Graphic Organizers
There are two simple graphic organizers included that can be used with any read aloud, passage (like the ones included in this free resource), or independent reading book.
They could even be used as a collaborative activity. Here's how:
Group your students in groups of 4 students each.
Assign a passage and a graphic organizer to the group.
Have the students read the passage together and discuss.
Each student will write details about their assigned story element on a sticky note. The sticky notes can then be placed on the graphic organizer.
If you assigned each group a different passage, they could even use the graphic organizer to "present" or share their stories with other groups.
Story Elements Passages
There are two sets of passages included:
Passage Set 1:
This set includes four passages for identifying and describing story elements. Each passage includes questions that relate to the focus story element skill.
The skills included in these passages are:
Characters (including character traits and feelings)
Setting (including the impact of the setting on the plot and characters)
Plot – Problem & Solution
Plot – Sequence of Events (Beginning, Middle, and End)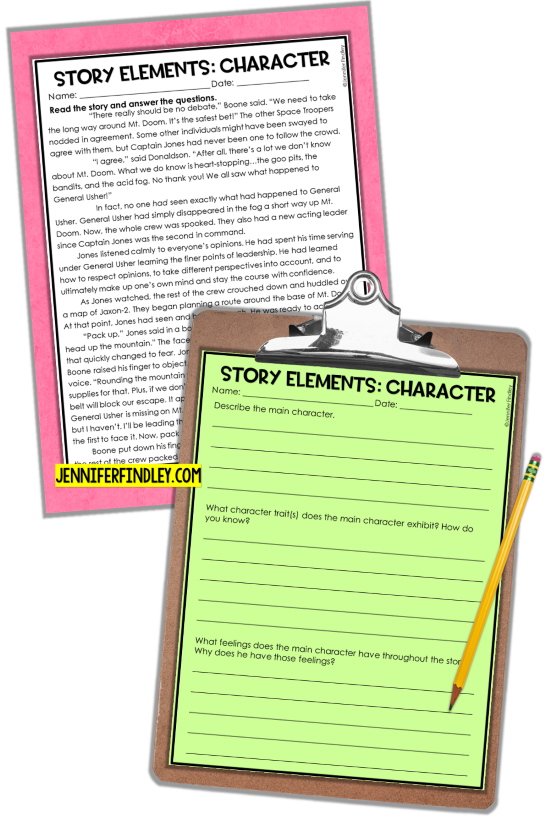 Passage Set 2:
This set includes four passages. Each passage includes basic questions that ask students to describe the basic story elements (characters, setting, plot, and problem and solution) of the story.
The passages in this set are good to use to review all of the story elements at once and then for after reviewing each story element as a culminating practice. These allow the students to identify and describe all of the story elements within a story.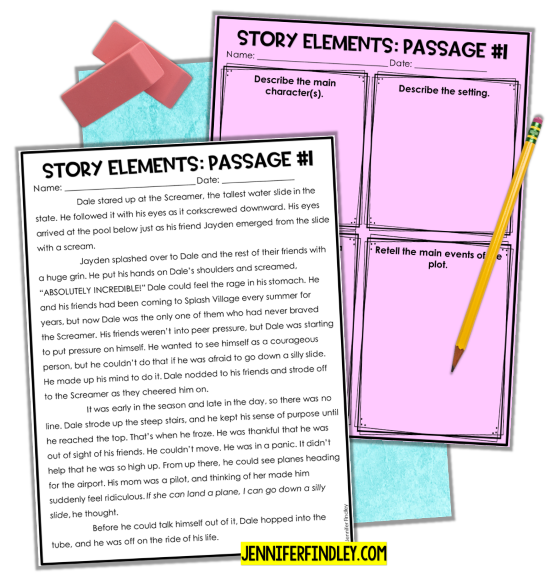 Small Group Activities
Story Elements Activity #1
This activity is a low-risk, interactive way to review story elements and to practice identifying them. To complete the activity, the students read excerpts of stories. They determine which story element each excerpt is describing, and sort it to the correct heading.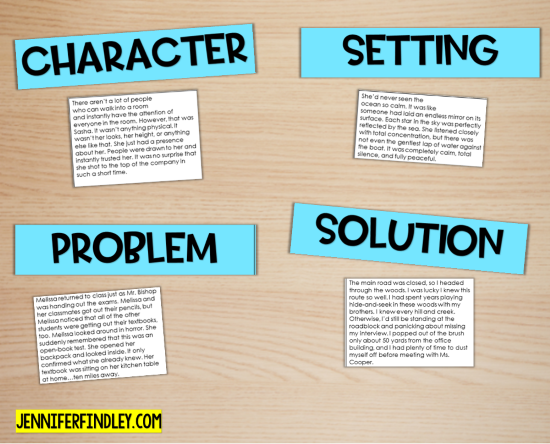 Story Elements Activity #2
This activity helps students practice describing the story elements. To complete the activity, the students read excerpts about given story elements. They highlight or underline the most important details about that story element and then summarize those details.
Story Elements Activity #3
This activity is a set of 12 task cards to practice a variety of story elements skills.
For task cards #1-#4, students will read a text and determine which story element is being described. These are multiple choice.
For task cards #5-#8, students will read a text and then determine which statement from four is true about a specific story element. These are multiple choice.
For task cards #9-#12, students will read a text and answer an open-ended story elements question.
These are perfect for reading centers and even small group instruction.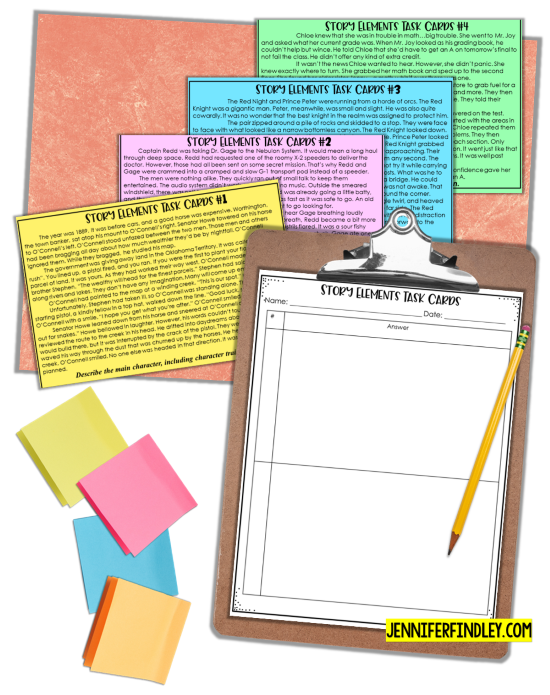 Digital Story Elements Activities
All of the resources are also included in a digital version for Google Slides (with a Google Forms version of #1-8 task cards).
You can assign the digital versions as independent or a reading center or station. You could also use the digital activities for your whole group instruction by projecting the slides for students to see.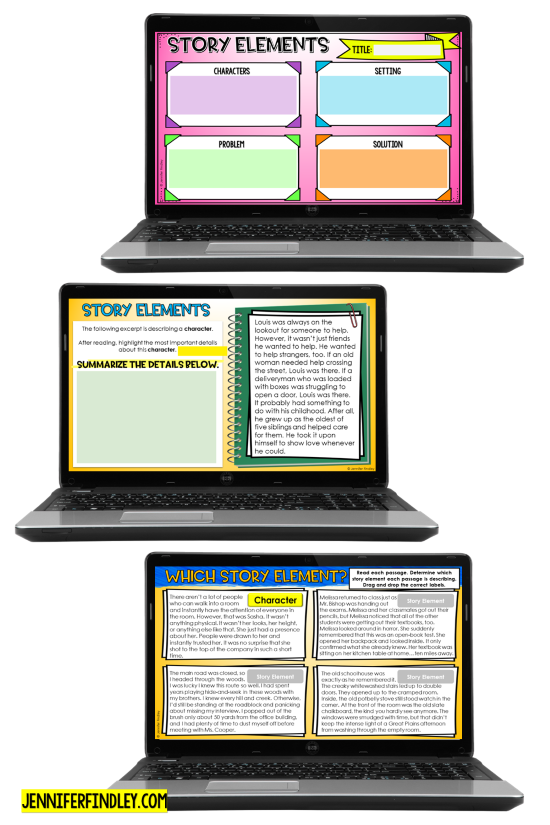 Get Free Story Elements Resource Here
To get the free story elements reading resource sent straight to your inbox, click the button below and enter your email in the form that pops up. Using a personal email address is better for deliverability reasons.
Want MORE Reading Resources?